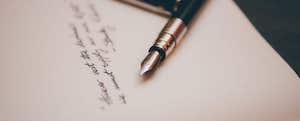 Although most people understand the need for a will, many don't understand exactly what they are, what their benefits are, and what their limitations are. So what is a will, and why do you need one?
A will is an essential estate planning vehicle that will enable you to set out how you want your estate distributed upon your death. It ensures that your wishes are considered, and your property will only go to the family members or beneficiaries you designate. It also sets out a legal guardian for your minor children. Regardless of the extent of your wealth, anyone who has children or who owns assets should have a will.
Your will can
Establish who gets what assets and personal property
Establish who you choose to care for your children
Establish an executor to manage your estate
Keep assets away from people who you don't want to have access to them
Allow your heirs a quicker and easier way to get access to assets
Enable you to leave assets to a charity
Unfortunately, if you pass away without a will, the distribution of your estate will be left to the courts, and your assets may not be distributed in a way that you would have wanted. Dying intestate (without a will) can also put emotional and financial stress on your heirs as they try to guess how you would have wanted your estate to be settled.
The Basics of a Will
There are very few legal requirements when it comes to a will. To create a will, you must simply
Be 18 years of age or older
Understand that you own property and that you want to leave it to your heirs, or be of "sound mind"
Create something that says what the property is and who you are leaving it to, and
Sign the document, preferably in the presence of two witnesses
This is a very simple format but can legally be probated in most states.
What Is the Best Will to Have?
The will with the most likelihood of withstanding any legal tests is a testamentary will. This is the will that most people think of when they think of a traditional last will and testament. Although an individual can write out a testamentary will, for greater legal assurance it should be prepared by a trusts and estates lawyer.
A testament will must clearly and concisely set out
The maker of the will
That all previous wills are revoked
That the maker is of sound mind and not under duress to make the will
The document will further set out a will executor who will execute the will's terms, what property and assets are included in the estate, the beneficiaries and who will receive which property and assets from the estate, and who will act as your guardian to any minor children. It will then be signed before two witnesses and, to make things easier at the probate of the will, it should be notarized.
You should store your will safely and your executor should know exactly where it is and how to get to it.
What Is a Holographic Will?
If a will is written and signed but not in the presence of two witnesses, it is called a holographic will. These are often used in emergency situations when there is no one available to act as witnesses. Whereas New Jersey recognizes a holographic will for probate, the state of New York only recognizes them in a few select circumstances.
Because validating a holographic will can be difficult, it is always preferable to have a properly executed will with two witnesses as well as a notary.
Will vs. Trust — What Is the Difference?
A will is essential for most people to transfer personal property to their heirs upon death, but there are many things that a will cannot do. In those cases, leaving assets by means of a trust will be more beneficial.
A will must go through the lengthy probate process and is subject to estate and other taxes and fees. It can also not be suitable for some types of property and assets.
Because a trust is a separate entity that can own assets, a trust will not be subject to the same taxes and fees that a will is. If you want to ensure that certain people get benefit of assets without having to pay large estate or gift taxes, these assets can be transferred to a trust which is then managed by a trustee and disbursed to beneficiaries after your death.
Experienced New York Estate Lawyer
If you would like more information about wills and trusts and which may be better for you, contact AJC Law at (201) 464-1011 for a complimentary consultation.
Our Reviews See What Our Clients Are Saying
Where to Find Us
Closter, New Jersey
161 Mckinley St
River Vale, New Jersey
645 Westwood Ave.
Pearl River, New York
1 Blue Hill Plaza #1509