List: Tips for Finding the Best Probate Lawyer in New Jersey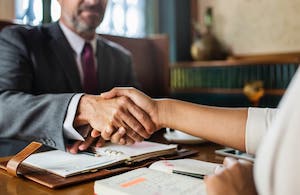 On average, every person that passes away leaves behind at least five family members or friends to mourn and grieve their loss. Often, these family members and friends are left to handle the complicated legal process for handling the decedent's estate administration—a process known as probate. Nobody wants the added stress of dealing with probate while they are grieving their loved ones. This is why hiring an experienced New Jersey probate lawyer is a good idea.
But how are you supposed to find a lawyer if this is your first time dealing with handling a deceased loved one's estate administration? Luckily, we've compiled a list of considerations for you to weigh when deciding who to hire to help you with the probate process.
1. Trusted Referral
Because working through all of the probate steps after a loved one passes away is a personal and emotional time, working with a reliable and trustworthy lawyer is key. One of the best ways to find a reliable and trustworthy lawyer is by asking your friends, family, or professional contacts. Chances are that somebody you know has dealt with the probate process for a loved one, and can therefore let you know if they have had a good experience with someone—or, on the other hand, a not-so-good experience.
Their recommendations will give you a jumping-off point in your research and save you a few steps. You will not waste your time looking into an attorney just to determine that their personality or procedures do not work for you.
2. Specialization & Experience
You don't want just any lawyer to handle your case. A lawyer who specializes in criminal law will be of no help during the probate process, so you want a lawyer who specializes in probate law and estate planning, as they will be best equipped to handle your needs.
Relatedly, you want a lawyer with extensive experience in probate law and estate administration in New Jersey. You want to make sure that the lawyer you work with can handle all aspects of estate administration, thus avoiding needing to hire multiple professionals. Ask your lawyer if they will handle all administrative tasks, court appearances, tax returns, collection and distribution of assets, and any litigation should that arise. If they do not do everything, see if other attorneys at their firm can assist. If they are a solo practitioner, they may also have a good referral network.
Furthermore, membership in professional organizations, such as the New Jersey State Bar Association or the American College of Trust and Estate Counsel, is a good sign in a lawyer. This demonstrates commitment to staying current with industry developments and best practices.
3. Good Standing & Reputation
The last thing you want to do is begin working with an attorney you later find out is untrustworthy. All accredited attorneys need to meet specific criteria to practice in the jurisdiction they practice in. However, not every attorney has the best track record. Before signing on with someone, you should research to see if they have any blemishes in their record, including ethical complaints or lawsuits, that are cause for concern.
Your state bar association will keep online records of disciplinary actions. In New Jersey, you can search the disciplinary histories page or the attorney search on the New Jersey Courts website. New York has a similar search function. State bar resources can help you quickly determine whether your attorney is good standing or not.
Moreover, you want to understand the lawyer's reputation in their community. Client reviews and testimonials, as well as recommendations from friends, family, or professional contacts, can be helpful in determining the lawyer's local reputation.
4. Understand How the Lawyer Charges
Because lawyers fees are often paid out of the decedent's estate, it is important to understand the lawyer's fee structure as it can impact the remaining assets and inheritance for the beneficiaries. Typically, fee structures include hourly rates, flat fees, or retainer agreements (i.e., for a percentage of the estate).
Understanding the lawyer's fee structure allows you to budget and plan to ensure that the estate has sufficient funds to cover the costs without compromising the inheritance of the beneficiaries. Considering lawyers' fee structures can also help you compare lawyers to see which offers a more suitable fee structure for your needs.
5. Location
Since the probate process is governed primarily by state law and regulations, you want to find a probate lawyer in New Jersey, or in whichever state that the decedent lived in. If the decedent owned property or had connections with multiple states, such as living in New York and owning property in New Jersey, you may want to find a lawyer who has familiarity and experience practicing probate law in both jurisdictions.
6. Feeling Comfortable and Safe
No matter how prepared you may be, losing a loved one is hard. The adjustment to life without your loved one can be painful. You do not want to work with a lawyer who makes this period more painful.
Even the best lawyer with the most knowledge and experience might not be the right fit. You want to make sure that your personalities mesh and that you feel comfortable. Plus, you want to feel like you can trust your lawyer's advice.
Scheduling a consultation is a great way to get to know an attorney before deciding to work with them. That way, you can meet the lawyer in-person or virtually to get a perspective of who they are and how they operate.
Conclusion
A helpful probate lawyer will make the entire process of handling your loved one's estate a lot easier than doing it on your own. Their guidance can prevent the possibility of problems arising down the road. If you are ready to get started, contact us at The Chamberlain Law Firm today by calling us at (201) 273-9763 to set up a consultation.
Our Reviews

See What Our Clients Are Saying
Where to Find Us
Westwood
381 Broadway, 2nd Floor
Pearl River
1 Blue Hill Plaza #1509