6 Tips to Find the Best Probate Attorney in New Jersey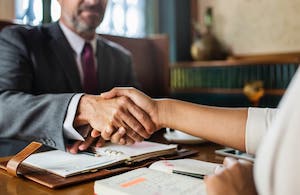 On average, every person that passes away leaves behind at least five family members or friends to mourn and grieve their loss. It's a terrible time for loved ones that is difficult to navigate through.
These hard, trying times are even more complicated when those left behind have to handle the decedent's estate administration (i.e., probate). No one wants to add to the stress and sadness of a time like this, which is why working with a probate attorney is a good idea.
Finding the right probate lawyer for you and your family is crucial to making it as easy of a process as possible. We've compiled our top tips for doing just that.
1. Trusted Referral
Working through all of the probate steps after a loved one passes away is a personal and emotional time. It can be challenging, which is why it is essential to work with a reliable and trustworthy lawyer.
One of the best ways to find that type of lawyer is to ask your friends and family if they have had a good experience with someone. Their recommendations will give you a jumping-off point in your research and save you a few steps. You will not waste your time looking into an attorney to determine their personality or procedures do not work for you.
2. Relevant Experience With Probate
The main reason you want to work with a probate lawyer is to have someone help you with the legal process of settling the estate. A lawyer can handle everything, which will allow you time to grieve, focus on family, and continue with your life. While you can do at least some estate administration on your own, there is an important aspect of "peace of mind" that comes when working with an experienced lawyer.
However, you do not want just any lawyer to handle your case. There are so many different facets to practicing law; one attorney cannot be an expert in all of them. This is why it is crucial to find an attorney who specializes in wills and probate. They will be able to give you the best advice for your specific situation.
3. Ability to Handle the Whole Process
There are many factors involved in an estate administration, and it is not always cut and dry. You want to make sure the attorney you work with can do it all, so you do not have to find multiple professionals to get the job done.
Check with your lawyer to see if they will handle all the administrative tasks, court appearances, tax returns, collection and distribution of assets, and any litigation if that arises. If they do not do everything, make sure other attorneys at their firm can assist. Or, if they are a solo practitioner, they have a good referral network. This will ensure you do not have to spend time finding more professionals to help you.
When a loved one dies, it is a trying time, and you want your attorney to oversee the whole matter.
4. Verify Good Standing
All accredited attorneys need to meet specific criteria set by the state they live in. Still, not every attorney has the best track record. Before signing on with someone, you should research to see if any red flags cause you concern.
These red flags include any ethical complaints or lawsuits. The last thing you want is to begin working with an attorney only to find out they are untrustworthy.
Your state bar association keeps online records of disciplinary actions. For New Jersey, you can search the disciplinary histories page or the attorney search on the New Jersey Courts website. For New York, you can go to their online attorney search. Checking out your state bar resources will help you quickly determine whether your attorney is in good standing or not.
5. Understand How the Attorney Charges
Probate and working with a probate attorney is often a new experience. Many times their fees are paid out of the estate. Generally, attorneys bill in one of three ways for this type of work: a flat rate, hourly charge, or a percentage of the estate. Whatever the situation may be, it's important to know how the attorney charges.
6. Feel Comfortable and Safe
Losing a loved one is never easy, no matter how prepared you are. Life as you know changed forever, and the adjustment period can be painful. The probate lawyer you choose to work with can either make that time easier or harder.
Even the best lawyer with the most knowledge and experience might not be the right fit. You want to make sure that your personalities work well together and you feel comfortable. They will be giving you valuable advice, so you have to trust them to do what is best for you.
A great way to know if the probate attorney is the right choice is through a consultation. This way, you can meet in-person or on-line to get a good perspective of how they operate.
Finding the Best Probate Attorney for You
A helpful probate attorney will make the entire process of handling your loved one's estate a lot easier than doing it on your own. Their guidance can also prevent more problems down the road.
Take our advice and find the right lawyer to help you determine the best path for you and your family. They will help you get the closure you need to have the space to grieve properly.
If you are ready to get started or have more questions, contact AJC Law Office today!
Our Reviews See What Our Clients Are Saying
Where to Find Us
Closter, New Jersey
161 Mckinley St
River Vale, New Jersey
645 Westwood Ave.
Pearl River, New York
1 Blue Hill Plaza #1509