Tips for Finding an Eldercare Facility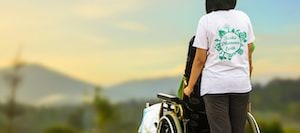 Establishing the Level of Care
Long-term care comes in many forms. It can take place in the home, at a nursing home, an assisted living facility, and a variety of other options. Nursing homes provide the highest level of care, for example, and are equipped with nurses, caregivers, and doctors that provide assistance with daily activities as well as medical attention.
Regardless of what type of facility one chooses, generally speaking, there are two types of long term care, skilled and custodial. Skilled care includes medical services, such as administering medications and tending to complex wounds, that are only provided by licensed medical personnel.
Non-skilled care focuses on assistance with activities of daily living (ADLs), which includes functions like eating, bathing, and dressing. Sometimes care can also involve help with laundry, light cleaning, and preparing meals. Non-skilled care is common for situations involving dementia or Alzheimer's.
Regardless of what assistance level is needed, skilled and non-skilled care can be at a home, an adult daycare facility, or in a residential setting such as an assisted living facility.
Evaluating Your Finances and Benefits
Long term care services are expensive and can go on for many years easily piling up the bills, so you need to plan for them. When putting a strategy together, it is important to accurately assess your financial situation.
You need to know all of your assets, whether you are entitled to any additional benefits (such as a veterans pension), and whether there is a long term care insurance policy in place. And, if there is a policy, what it exactly covers and for how long.
Understanding your financial situation and what benefits you may be entitled to will not only help you make a better decision on the right services but can also potentially save you a lot of money by identifying a means to pay you may have not previously considered.
Researching and Visiting the Best Options
Once you understand the level of care that is required and how it will be paid for, now you must decide where to get the services you need.
There are so many different options and figuring out a facility to choose can be daunting, especially a residential one. When evaluating residential options, there is a list of questions you need to ask yourself before making the final decision. These include their staff to resident ratio, training level of the staff, complaint history, as well as the facilities "Nursing Home Compare" score on Medicare.gov.
This is a helpful tool that should be considered in conjunction with your other means of evaluation. Another important aspect of the decision process is your personal impressions of the facility and its staff. Did you find them welcoming, friendly, responsive, etc? You should also visit a facility at least twice on different days/times so you can get familiar with different staff members and how it operates at various times in the day.
Obviously this is not an exhaustive list and there are many other things to think about when picking a nursing home, including working with an experienced attorney and/or a medical professional.
At the end of the day, finding the right care facility for you or an aging loved one is not easy, and guidance can be very helpful in making the right decisions. Please contact AJC Law for a free consultation to discuss your situation and to see how our office can help.
Our Reviews See What Our Clients Are Saying
Where to Find Us
Closter, New Jersey
161 Mckinley St
River Vale, New Jersey
645 Westwood Ave.
Pearl River, New York
1 Blue Hill Plaza #1509